~~PLAYER SPOTLIGHT FOR DICE~~

~DICE~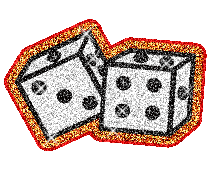 03/11/16 ~HELD BY:

**none**






FEB**



**YOU MUST BE AN ACTIVE MEMBER TO QUALIFY FOR ANY SPECIAL TOUR PRIZES!!! IF YOU ARE "IDLE" FOR 3 DAYS YOU WILL LOSE YOUR HIGH SCORE AND ANY CHANCE OF WINNING ANY PRIZES FOR SPECIAL GAMES.
THIS MEANS IF YOU HAVENT PLAYED IN 3 DAYS AND YOUR PROFILE SAYS YOU HAVE BEEN IDLE FOR 3 DAYS YOU WILL NOT BE ELIGABLE TO WIN THE PRIZE! ALSO PLAYING 1 OR 2 TOURS EVERY COUPLE OF DAYS WONT BE ACCEPTABLE!
***DUE TO THIS IS NOT FAIR TO OUR LOYAL PLAYERS THAT PLAY ALL THE TIME! YOU CAN NOT JUST COME TO PLAY FOR THE PRIZES AND NOT PLAY TIL THE NEXT SPECIAL!! ***
Effective immediately, the Spotlight Winners have changed. You can only win once every THREE (3) months and we will be giving 20 gems away to the high score of the month. If you have a one win in any one month period, your score will not count for another 3 months.
**ALSO ALL GIFTS ARE NON TRANSFERABLE THAT ARE GIVIN FROM STAFF WHILE PLAYING IN THEIR TOURS.
IF A HOST ISNT HOSTING AND WANTS TO GIFT THEN AND ALLOW IT, THEN THATS UP TO THEM OR IF MEMBER IS GIFTING THEN ITS UP TO THEM AS WELL!
***BUT NOT WHILE HOSTS ARE HOSTING!!***
**WINNER OF THE PLAYER SPOTLIGHT WILL RECEIVE 20 GEMS, PLEASE NOTIFY ME WHAT YOU WOULD LIKE!
***ALL PRIZES MUST BE CLAIMED WITHIN 48 HOURS OR YOU FORFEIT THE PRIZE WON.***





TBA
~WINNER:TBA~
~TBA~
~HELD BY:TBA~




TBA
~WINNER:TBA~
~TBA~
~HELD BY:TBA~




TBA
~WINNER:TBA~
~TBA~
~HELD BY:TBA~




TBA
~WINNER:TBA~
~TBA~
~HELD BY:TBA~
~WINNER:TBA~
~WINNERS~TBA~




TBA
~WINNER:TBA~
~TBA~
~HELD BY:TBA~




MEMBER APPRECIATON
~WINNER:TBA~
~TBA~
~HELD BY:TBA~
Layout © 2011 | tht1.com | Donnas' Creations