Just Havin Fun Newsletter
October 9, 2016



From Mike ...
I said I wasn't going to mention SLOW PLAY again but I have been given no choice. When I have TDs that are frustrated and don't want to host tourneys, it is a BIG issue. It doesn't take a rocket scientist to figure it out - if we don't have TDs willing to host, we don't have tourneys. And if we don't have tourneys, we don't have a league. I, along with others, have poured our hearts and souls into JHF and we refuse to allow this league to die. So with this said, we will no longer have a 5-minute timer for round one. We will now have a 3-minute timer overall effective Monday, October 17. This timer is not reset with each round. For example, if a player takes 2 minutes to get to the table, they only have 1 minute left before being DQ'ed. As I have said many times, all tourneys start on the hour or no later than 5 minutes after the hour, so waiting until a tourney begins to wash dishes or to change the oil in your car will get you DQ'ed. If you happen to be DQ'ed from a tourney, there is no need to get upset with the hosting TD - it isn't their fault that you missed the pairing in the lobby or was distracted by other things. This 3-minute timer is for all rounds and includes making the tables, sitting and playing. Even though we know Safe Harbor Games has issues from time to time, the 3-minute timer still stands. So if you are booted, you will need to return to the lobby as quickly as possible. And I will remind you that it is not the responsibilty of the hosting TD to message you to make and/or come to the tables. Tables should be made as soon as the pairings are posted and players should sit as soon as the tables are made. And play should be steady at all tables. While you are playing in a tourney is not the time to catch up with old friends on Facebook or to do other things that slow your play down. I know some will not like the change in the timer but something had to be done. It's not fair to the hosting TD or to those playing to waste time waiting for tables to be made, players to sit and for games to be played. Hopefully, this will work, even though we know some players will be DQ'ed. It is not our intent to DQ players but we all need to pay attention and do what we need to do to keep the tourneys moving at a steady pace.
After discussion, the Admin have decided that subs can be used if a player is missing in action and is on the timer. If a player is missing in action, a sub can sit while the 3-minute timer is ticking. If the missing in action player returns before the timer is up, the sub must stand to allow the player to sit. Members cannot play at more than one table. TDs will need to sub, if needed. This change will also begin on Monday, October 17.
Have a great week and good luck at the tables!




JHF's Member in the Spotlight ...
And our Member in the Spotlight for October is Oskeeweewaa. To learn more about Oskee, just click on the Member in the Spotlight link on our main page.




JHF's Pro Football Pick'Em ...
The game is on! After Week 4, Jan32j has moved into first place with 46 points. Earnhardt83ts1 is right behind Jan32j with 45 points. And Giggles1 and Oskeeweewaa are tied for third with 43. It's good to see a guy in the top three now! But it's too early to predict a winner because there's lots of football left to be played. Good luck to those competing this week!
If you would like to join us in this Yahoo Fantasy competition, follow the steps below:
1) Log into Yahoo
2) Put this link in your browser and click - http://football.fantasysports.yahoo.com/pickem
3) Click on Join Group - Private Group - Group ID 25976
4) Our group is - JHF Pigskinners and the password is - euchre
5) Make your Pick'Em name the same or close to your league ID so we will know who you are
This is only for members of Just Havin Fun so please don't share the info with non-league friends.
Even though play began on September 8 you can still join the group.
If you need any help, please speak with Harleymike.




Spark Messenger ...
As many of you know, Yahoo Messenger is no longer the friendly messenger we have used for many years. There's lots of changes and it's not so user friendly now. We have been invited to use Spark, which has lots of the features of the old Yahoo. Lots of us have already downloaded this program and you are welcome to do it too (if you haven't). Just click on this link - ctdhosting.com/downloads/spark_2_7_7.exe and when asked for the server, type this - messenger.ctdhosting.com and you should be ready to go. If you have any questions, please feel free to ask Sweett_sassyblues_4u.





JHF's Player of the Week ...
Congrats to Ramanron on being JHF's Player of the Week for October 9-15! Ram collected 61 points for his tourney play. Way to go, Ramanron!




JHF's Good Vs. Evil ...
Now let's see just who will admit that they are Evil! Good Vs. Evil will be hosted on Sunday, October 16 at 900pm. Two tourneys will be on the calendar for 900pm. One will be for those who think they are Good and the other will be for those who know they are Evil. Wonder who will win? The Good? Or the Evil?





JHF's Name That Game ...
Wanna play your favorite game? You can pick the game but you have to win first! Name That Game is a 2x2 tourney with the winners picking the game for the next week. Name That Game will be hosted on Monday, October 17 at 900pm. And the game, compliments of Maggieami & KiwiLinda is Veto. Grab a partner and join us Monday night!





JHF's All-Star ...
Congrats to Amazing_mom_61 on jumping rank to #1 in the league. JHF's All-Star will be hosted on Tuesday, October 18 at 900pm. Don't forget that our All-Star is now a 2x2 random partner tourney. The winners will face each other in a final game to determine who moves to #1. The losing partner will also move in rank to #2. This is a great opportunity to take control of first place. Join us at the tables and let's see who will be jumping rank. Good luck to all!




JHF's TDs vs. Members ...
It's time to rumble! The TDs Vs. Members special will be hosted on Wednesday, October 19 at 900pm. There will be two tourneys on the calendar for 900pm. One will be for the TDs and the other will be for the Members. Wonder who will be talking the most smack when the last card is tossed? Good luck to all!





JHF's Roast ...
Another JHF'er has been greased and roasted! Congrats to Gismo0060 on winning Ramanron's roast! In addition to winning the tourney, Gismo0060 got to rename Ramanron for the week. Ramanron's new name is BrightEyes4You. For being roasted, Ramanron got to pick who would be roasted next and KiwiLinda is being prepped for the firepit. Way to go, Gismo0060! Thanks for being good sports, Ramanron & KiwiLinda!
JHF's Roast will be hosted on Thursday, October 20 at 900pm. The winner of the tourney will get to rename KiwiLinda for the week. Each week the member roasted will pick who will be roasted the following week. If a player is roasted, he/she must make a new SHG ID with their new name and play using that new name until the next roast. Your league name will not change. We do ask that names not be totally offensive and that you remember you might be roasted next! IF YOU DO NOT WANT TO BE ROASTED, PLEASE LET THE HOSTING TD KNOW SO SOMEONE ELSE CAN BE PICKED! Good luck and have fun!




JHF's Member of the Month ...
Congrats to Ramanron on being JHF's Member of the Month for September! During the month of September, Ram won 20 tourneys. A special tourney will be hosted in Ramanron's honor on Friday, October 21 at 900pm. Way to go, Ram, keep winning!





JHF's Family Feud w/ the Texans ...
Round two of Family Feud is in the history books! If you have missed our feuds, you can join us on Saturday, October 22 for another round! Extra bux will be up for grabs for those giving the top answers. Don't miss out!




Trivia & Cards with JHF ...
It's time for trivia! Sweett & Mike will host Trivia & Cards on Saturday, November 19 at 900pm. The winner of the tourney picks the topic for the next trivia night. Extra bux are given for correct answers. The trivia topic for November 5 is Old Country Songs compliments of Jan32j and Snow_w_dove. See you then!
Who's The Star trivia bux were awarded to - Maggieami (12), SkyWalker (3), Seductivewind (2), Txmeshell (2) and Summerrose3333 (1). Way to go, gang! And thanks for prividing the trivia, Kindmasterful44! You did great!





JHF's Wave The Flag ...
It's time for a new flag to wave on our league's main page! Wave The Flag will be hosted on Sunday, October 23 at 900pm. The winner of the tourney will pick a flag that will be displayed next to their name on our league's main page for the month. Flags can be for the states, colleges, republics, teams, etc. Join us on Sunday night as we wave the flag!





JHF's TD of the Week ...
Congrats to Giggles1 on being JHF's TD of the Week for October 9-15! Giggles hosted 16 tourneys during the week. Way to go, Giggles1!




JHF's USA Vs. World ...
The World rules! Congrats to Gismo0060 on winning the title for the World! Nice try, Jan32j, who won for the USA. Great job, Gismo0060!





JHF's Battle of the Ages ...
The Fine Wines did it! Congrats to Helperrr on winning the battle for the Fine Wines of JHF! Nice try, Sweett_sassyblues_4u, who won for the Succulent Grapes. Guess the old timers need to win from time to time! Way to go, Helperrr!





Cooking with JHF ...
Each week a recipe will be featured in our newsletter. If you have a favorite you would like to share with your fellow league members, please email harleymike332003@yahoo.com and your recipe will be featured. This week's feature recipe is -
- Apple Crisp (compliments of Melanie453022) -
10 cups apples, peeled, cored and sliced
1 cup white sugar
1 tablespoon all-purpose flour
1 teaspoon ground cinnamon
1/2 cup water
1 cup quick-cooking oats
1 cup all-purpose flour
1 cup packed brown sugar
1/4 teaspoon baking powder
1/4 teaspoon baking soda
1/2 cup butter, melted



Preheat oven to 350 degrees F. Place the sliced apples in a 9x13-inch pan. Mix the white sugar, 1 tablespoon flour and ground cinnamon together and sprinkle over apples. Pour water evenly over all. Combine the oats, 1 cup flour, brown sugar, baking powder, baking soda and melted butter together. Crumble evenly over the apple mixture. Bake at 350 degrees F for about 45 minutes. Enjoy!





JHF's Shout Box ...
Wanna leave a message for the league or a member? Use our Shout Box! To post a message in the Shout Box you must be signed into the main page (upper right side). Members are welcome to leave messages at any time. To add smileys or graphics, just click on SMILES. If you would like to add any graphics to the box, please see Sweett_sassyblues_4u. Shout away!
Please remember that the Shout Box is for shouts. If you have a league issue, you will need to post it in the JHF Forum.





A JHF Fact ...
The Pentagon has a plan for combating a zombie apocalypse.





JHF Radio ...
Wanna listen to some tunes while you toss cards? JHF is a banner league for Hott N Funky Radio. Hott N Funky brings class and style to your internet experience. To tune in, just click on the radio link on our main page or save this link in your favorites - http://www.hottnfunkyradio.com/. The DJs play a variety of music, play requests and mingle with listeners in chat. A special perk is that three of our JHF members are DJ's - Sweett_sassyblues_4u, DJ_Giggles, Kerry24, DJSinsterSammy & DJFunkDaddy54. Check it out and request your favorite tunes!





What's Happening This Week in JHF ...
Sunday, October 16 - 900pm Good vs. Evil
Monday, October 17 - 900pm Name That Game
Tuesday, October 18 - 900pm All-Star
Wednesday, October 19 - 900pm TDs vs. Members
Thursday, October 20 - 900pm Roast
Friday, October 21 - 900pm Member Recognition for Ramanron
Saturday, October 22 - 900pm Family Feud
Sunday, October 23 - 900pm Wave the Flag





JHF & Face Book ...
Do you have a Face Book account? JHF does! If you would like, search or click on the Face Book link on our league's main page and add Justhavinfun Euchre to your friends list. Feel free to leave comments on the page. This is a great way to advertise our league!




JHF's Big Bux Winners for the Week ...
Devil's Regular STD Tourney - Gismo0060 with 10,000 bux
Texaslynn's Regular STD Tourney - Jan32j with 10,000 bux
Harleymike's Basketball 2x2 Tourney - Maggieami & KiwiLinda with 10,000 bux each
Swtnurse's Regular STD 2x2 Tourney - Da_Devil & Jscdeuces with 10,000 bux each
Swtnurse's Double Whammy Tourney - Samcindi with 20,000 bux
Meshell's Commander Tourney - Ramanron with 20,000 bux
Swtnurse's Crazy Queens Tourney - Headbouncer with 20,000 bux
Jan's Red Only STD Tourney - Aussiee_mischief with 10,000 bux
Meshell's Dirty Dreaming 2x2 Tourney - Jan32j & SkyWalker with 10,000 bux each
Aussiee's Backasswards Tourney - Summerrose3333 with 15,000 bux




Got Bux? ...
Are you a premium member with a platinum or diamond membership? Do you have lots of bux and would like to give some away? If so, please let the hosting TD know and they will add your gift donation to their tourney. Let's share the wealth!





We Need Your Help ...
We need to keep our JHF birthday listing up-to-date. If you haven't already, please email aussiee_mischief@yahoo.com with your birthday. We would like to honor you on your special day with a tourney so email Aussiee_mischief today!





How About More For Your Money? ...
Wouldn't you like to get more bux out of tourney wins besides the usual pots? How about going gold, platinum or diamond? You'll get more bux for tourney wins and for participating in tourneys. Lots of extras come with memberships, too. Not only would you be helping yourself but you would be helping the league, too. Check it out on our league's main page. If you have any questions, please talk with an Admin or another premium member.




Deep Thought ...
Do you have a favorite deep thought or quote you would like to share with your fellow league members? If so, please email harleymike332003@yahoo.com and your favorite will be included in the newsletter.
Marcus Aurelius was Roman Emperor who once said, "Very little is needed to make a happy life; it is all within yourself, in your way of thinking."





On The Lighter Side with JHF ...
Cough Syrup - The owner of a drug store walks in to find a guy leaning heavily against a wall. The owner asks the clerk, "What's with that guy over there by the wall?" The clerk says, "Well, he came in here this morning to get something for his cough. I couldn't find the cough syrup, so I gave him an bottle of laxative." The owner says, "You idiot! You can't treat a cough with a bottle of laxatives!" The clerk says, "Of course, you can! Look at him; he's afraid to cough!"





JHF Mailbox ...
Now you can send us your ideas, suggestions and/or complaints using the league's main page. Just click on "Support" and "Contact Admin" and send us an email. All emails will be answered promptly by the Admin team. Let us know what you are thinking!





Something to Think About ...
How to Cope When You Feel Out of Step with The World - from www.care2.com
On a daily basis, we often receive subtle media and social messages about how we should be feeling and acting. But what if you don't feel or act the same way? Does it mean there's something wrong with you?
Definitely not. In fact, many would suggest it's far healthier to question the status quo and look for your own answers in life instead of simply following what it seems like you "should" be doing.
These are some strategies you can try to help cope on days when you feel particularly out of step with the world.
- Avoid absolute thinking. This can also be called thinking in black and white, where you feel something is all good or all bad. In reality, most situations we encounter in life are various shades of grey. There are two sides to every story, and being overly attached to one viewpoint has been proven to lead to anxiety, anger and heightened stress. Do your best to stay objective and not get too caught up in a situation or in your thoughts. Take a step back and ask yourself if you've considered all the possibilities.
- Take a media fast. Do you find yourself regularly checking social media, television or other types of media to see what's going on? The messages we pick up from media can be elusive and you may not realize their negative effects over time. Try out a media fast to help counteract these negative influences. Turn off all your electronic devices for a certain time, such as half a day, 24 hours or a whole week if you can handle it. Then take that time to reconnect with other things that are important to you. Go out for walks. Play board games with friends. Explore what else you can do with your time that doesn't involve watching a screen.
- Respect your own needs. If the world leaves you feeling overwhelmed, it's alright to take some time for yourself and recharge. Keeping up your mental and physical health will help you deal with the stresses of life, no matter what they are. Find out what gives you energy and what you enjoy.
- Let go of control. Feeling like you're alone in the world can make you feel unsafe and afraid. This can make you want more control over your life in order to gain greater security. Unfortunately, this approach rarely works. Trying to control your actions, relationships or other aspects of life typically leads to greater stress and frustration. It can also limit your possibilities if you dismiss people and opportunities that don't conform to exactly what you want.
- Reach out. It can be tempting to isolate yourself if you feel out of step with the world. But connecting and communicating with people you trust can help remind you that you're not alone. Do your best to find others you can share meaningful contact with. It doesn't have to be far outside of your comfort zone. Even casually meeting other people through volunteering or other social activities can help to bring a sense that we're really all connected.




Contributions Are Welcome ...
If you would like to contribute to our newsletter in any way, please feel free. We are always looking for recipes, quotes, jokes and websites. All material for the newsletter should be emailed to harleymike33200@yahoo.com. If you come across something you wanna share, please email it to Mike. We welcome your contributions!





JHF's Requests for Your Thoughts & Prayers ...
- Jillyyyz's son as he recovers from back surgery.
- Txmeshell's friend who is having health issues.
- Weatherholt1954's mom as she deals with health issues.
- Mrcoffee4 as he deals with health issues.
- Pkkbozo's sister as she fights cancer.
- Kitkat4u50 as she deals with health issues.
- Barenecessities as she deals with FSGS.
- Aussiee_mischief as she deals with health issues.
- Rrcarter80 as she helps her daughter fight cancer.
- And to those who are dealing with issues of their own.




Celebrate The Date with JHF ...
Sunday, October 16 - Dictionary Day (learn some new words today)
Monday, October 17 - Wear Something Gaudy Day (and stick out in the crowd)
Tuesday, October 18 - No Beard Day (and that means yall to, gals)
Wednesday, October 19 - Evaluate Your Life Day (and then make the needed changes)
Thursday, October 20 - National Brandied Fruit Day (don't forget the fruit)
Friday, October 21 - Babbling Day (babble on and on and on)
Saturday, October 22 - National Nut Day (a day for all of us)
Sunday, October 23 - TV Talk Show Host Day (have a TV talk show marathon)




From Our Members ...
With Tax - compliments of Sweett_sassyblues_4u
A redneck goes to a drug store and says to the pharmacist, "I got a hot date tonight and I need me some protection. How much is a pack of them rubbers gonna cost me?" The pharmacist responds, "A three-pack of condoms is $4.99 with tax." "Tacks!" the shocked redneck says. "Don't they stay on by themselves?"




Celebrating JHF Birthdays ...
Wishing MachoMan a very Happy Belated Birthday on Saturday, October 8!
To anyone celebrating a birthday this week that we don't know about - Happy Birthday!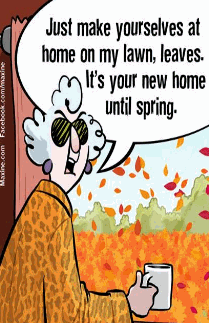 News written by:
Harleymike332003
*********************
Page Designed by:
Sweett_sassyblues4u
Page Designed By: Sweett Sassyblues