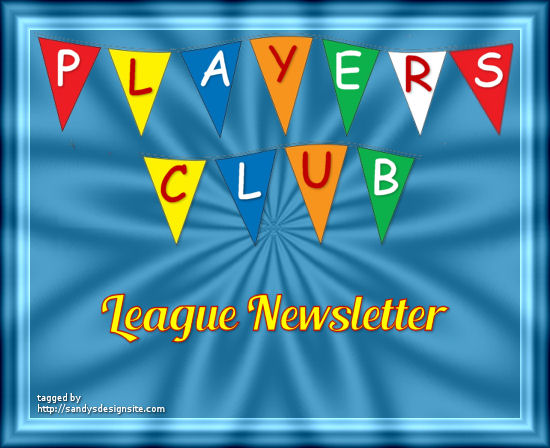 JULY 2018


HAPPY CANADA DAY AND HAPPY 4TH OF JULY TO ALL OF OUR MEMBERS!!! WELCOME TO ALL OF OUR NEW MEMBERS!!
WE NOW HAVE OVER 300 MEMBERS AND CONTINUE
TO HOLD #3 RANKING ON CASES LADDER.
A SPECIAL THANKS TO OUR STAFF FOR ALL THE TIME
THEY GIVE TO BRING TOURNEYS TO YOU 7 DAYS A WEEK!
WE'D LIKE TO EXTEND A SPECIAL WELCOME TO MYSTICGAMEPLYR WHO JOINED OUR TEAM IN JUNE!! WE'RE GLAD YOU'RE HERE!!





ANNOUNCING TWO CONTESTS IN JULY!!

'THE MIDWAY AT PLAYERS CLUB'
(runs July 1-31)

Single winners of all tours in all games will win a midway item as listed on the each tour.
You must collect one of each of the 15 items. The 3 players with the largest number of items at the end of the month will
win and have their choice of one of the following three items:
A Shaved Ice Machine OR A Corn Dog Machine OR a Cotton Candy Machine
A run-off tour will be held in the case of a tie.


'BEAT THE HOST'
(runs July 1-31)
Players who beat the host in any round of a tour receive one contest point. This is for all tourneys that run between the hours of
10am - 6pm ONLY!!! The two people with the most points at the end of the month will each win $50 cash!!
A run-off tour will be held in the case of a tie.

BEST OF LUCK TO EVERYONE!!





CONGRATS to our WALL OF FAME
WINNERS FOR THE MONTH OF MAY!!

**YAHTZEE PARTY**
MJG - 519, 606
PHYSCOSTONER - 524
PCBEACHBUM - 500

**DCR**
GHOSTRIDER - 1232

**LOTTSO**
LMK - 7050

We look forward to adding more names
to the **WALL OF FAME** in JULY!!!
To have your name placed on the wall,
you must score the following:

Lottso! - score 7000 or over
DCR - score 1220 or over
Bowling - 300 (perfect game)
Yahtzee Party - score 500 or over

Wall of Famers win a PREMIUM BADGE ALBUM
and their name is placed on the
WALL OF FAME located under the
Tournament Tab on the league home page.