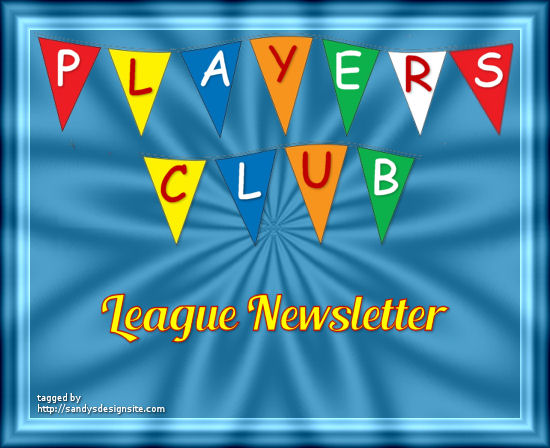 APRIL 2018


WELCOME TO ALL OF OUR NEW MEMBERS!
WE NOW HAVE OVER 160 ACTIVE MEMBERS AND CONTINUE
TO HOLD #3 RANKING ON CASES LADDER.

A SPECIAL THANKS TO OUR STAFF FOR ALL THE TIME
THEY GIVE TO BRING TOURNEYS TO YOU 7 DAYS A WEEK!
WE'D LIKE TO EXTEND A SPECIAL WELCOME TO CHAZZY, CHRISTY AND OSTEO
- THE NEW STAFF MEMBERS WHO JOINED OUR TEAM IN MARCH!!
WE'RE GLAD YOU'RE HERE!!




 
ANNOUNCING TWO CONTESTS IN APRIL!!!

SPRING HAS SPRUNG!!
(runs April 1-30)

The single tours winners of every DE and SE will receive one flower pot.
Swiss tour winners win one flower. To complete a pot of flowers, you need 1 pot + 1
flower. The goal is to complete as many flower pots as possible.
In the case of a tie, a run-off tour
will be played to determine the winner.
Prizes:
1st Place - 1 month diamond membership
2nd Place - 1 month platinum membership
3rd Place - 1 month gold membership


DOUBLE WHAMMY!!

(teams contest - runs April 1 - May 31)
Each team member from a single winning team will receive one point.
The top 3 players with the most points will win prizes. In the case of a tie,
a run-off tour will be played to determine the winner.
1st Prize - Choice of either an Amazon Fire Stick or an Amazon Echo Dot
2nd Prize - $25 Amazon card (courtesy of PCBeachbum! Thank you!)
3rd Prize - One pair of AMC movie tickets
BEST OF LUCK TO EVERYONE!! 




CONGRATS to our WALL OF FAME
WINNERS FOR THE MONTH OF MARCH!!

**DCR**
PHYSCOSTONER - 1232
JAZZRUGBYMOM - 1237
RSB1900 - 1244
BLAISEMO - 1246

**YAHTZEE PARTY**
PCBEACHBUM - 524
MUGGLEBUGS - 517
ROUSH777 - 530 & 523
JUSTADEALER - 521
WOLFINA - 618
PIXIE - 526
TIGHTLEVIS501BLU - 501

**LOTTSO!**
JUSTADEALER - 7565
ROUSH777 - 7040
VMRT101 - 7175
BIAREDIVITA - 7360
BLAISEMO - 7045
SKYHAWK - 7380

We look forward to adding more names
to the **WALL OF FAME** in April!!
To have your name placed on the wall,
you must score the following:

Lottso! - score 7000 or over
DCR - score 1220 or over
Bowling - 300 (perfect game)
Yahtzee Party - score 500 or over

Wall of Famers win a PREMIUM BADGE ALBUM
and their name is placed on the
WALL OF FAME located under the
Tournament Tab on the league home page.