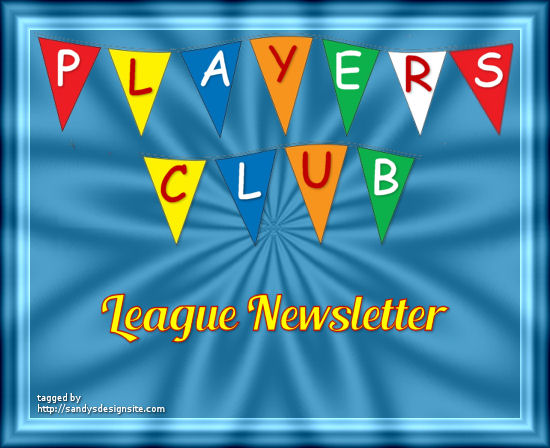 OCTOBER 2018


WELCOME TO ALL OF OUR NEW MEMBERS!!
WE NOW HAVE OVER 300 MEMBERS AND CONTINUE
TO GROW EACH DAY.
A SPECIAL THANKS TO OUR STAFF FOR ALL THE TIME
THEY GIVE TO BRING TOURNEYS TO YOU 7 DAYS A WEEK!
WE'D LIKE TO EXTEND A SPECIAL WELCOME TO DEVILSPATHWAY2
WHO JOINED OUR TEAM IN SEPTEMBER!! WE'RE GLAD YOU'RE HERE!





OUR SEPTEMBER CONTEST WINNERS
(ran September 1-30, 2018)

1st place - Giggles_Val 1 month diamond membership
2nd place - Tightlevis501blu 1 month platinum membership 
CONGRATS YOU 2!! 

"> 
OUR OCTOBER CONTEST 
(runs October 1-31, 2018) 
This will be a Halloween items contest!!!
There will be an item for each day of the week, 7 items on total.
Every tour in every ALL games will have the same item on it on that specific day.
Everyday at 2-2:30pm, 5-5:30pm, and 10-10:30pm these tours will have WILD items on them.
Please make sure you tell the host what item you choose to use the wild for. 
Sunday ~ Candle
               Monday ~ Haunted House
        Tuesday ~ Spider Web
         Wednesday ~ Pumpkin
                      Thursday ~ Witches Cauldron 
     Friday ~ Tombstone
        Saturday ~ Black Cat
 The top 2 players that collect all 7 items and the most items in total will win prizes!!!
1st place - 3 month Club Pogo membership 
2nd place - Badge Album of your choice 
BEST OF LUCK TO EVERYONE!! 



ROAD TO THE SUPER BOWL AT PLAYERS CLUB!!
(This is a 6 month contest starting Sep. 6th- ends Super bowl Sunday)

THIS CONTEST FOR A TOUR WIN YOU GET 7 POINTS
IF YOU COME IN 2ND PLACE YOU GET 3 POINTS.
EACH WEEK THERE WILL BE 5 SPECIAL TOURS RAN EACH WEEK!!
STARTING WITH 3 ON SUNDAY AT 1PM 5PM & 8PM TEAMS.
1 ON MONDAY NIGHT BOUNTY AT 7PM.
1 ON THURSDAY NIGHT AT 7PM. BATTLE OF THE SEXES!

THE TOP 10 WILL BE INVITED TO A SPECIAL TOUR EITHER THE NIGHT BEFORE OR
ON SUPER BOWL SUNDAY TO BATTLE IT OUT TO SEE WHO WILL BE
THE CHAMPION OF THIS SPECIAL CONTEST!!

The top 3 players with the most football tour points at the end of the month will win:
1st place - 3 month diamond membership & 2 Drink Koozies (NFL team logo of your choice)
2nd place - 2 month platinum membership & 2 Drink Koozies (NFL team logo of your choice)
3nd place - 2 Badge Albums & 2 Drink Koozies (NFL team logo of your choice)
BEST OF LUCK TO EVERYONE!!


***ATTN ALL PLAYERS*** 
Every Thursday night at 7pm in DCR we will be doing Battle of the Sexes!! 
As of October 1st we have made some changes to our Beat The Score wins.
We will only have DAILY bts winners from now on in Dcr, Lottso, and Yahtzee.
At the end of each day the DAILY bts winners 16 gems will be added to their gem bank.
No more weekly or monthly bts winners and no more weekly Pogo mails will be sent out.



**WALL OF FAME**
To have your name placed on the wall,
you must score the following:

Lottso! - score 7000 or over
DCR - score 1220 or over
Bowling - 300 (perfect game)
Yahtzee Party - score 500 or over

Wall of Famers win a PREMIUM BADGE ALBUM
and their name is placed on the
WALL OF FAME located under the
Tournament Tab on the league home page.