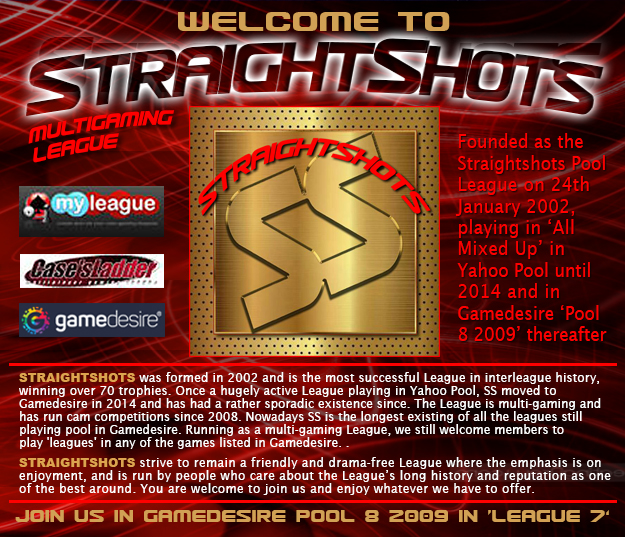 CONTACT:
MARIE (Head Admin) – Trillian: ms.marieeee • Skype: ree.ree23 • Email: millie.mollie@yahoo.com
NIGEL (Senior Admin) – Trillian: ENDK2016 • Email: en_dk@yahoo.com
SHELLE (Senior Admin) – Trillian: shelle4461 • Skype: shelle4461 • Email: shelle4461@yahoo.com
CAM COMPS, UIC SWISS, MULTI-GAMING AND POOL TOURNEYS... A VARIETY OF EVENTS IN SS! 
Listen to NET FAMILY RADIO onhttp://www.netfamilyradio.com/ while you play!
Easy listening music played by great DJs • Friendly chat room with nice people! 
   CAN YOU KINDLY DONATE TO HELP THE LEAGUE? 
 If you are in a position to donate anything to help with the upkeep of the League (for example, to maintain a website domain), please click below. All contributions directly help the League and will be greatly appreciated.
  >>>>>> T H E      S T R A I G H T S H O T S     S H O U T B O X <<<<<< 
KEEP IT CLEAN! Any negative stuff will be deleted and IPs may be banned. You have been warned!