We are happy to have you join the best league offered through Cases Ladder and hope your playing time in the league is fun and enjoyable. Should you ever need assistance please ask in the lobby or private message any Tournament Director. Tournaments are offered daily when hosts are available to set with a variety of tournament formats.
Please take the time to browse through the tabs on our main page to familiarize yourself with what other tournaments are offered throughout the months.
BUX'S: Bux's are required to register for tournaments as an Entry Fee. If you get low and need more to register for a tournament you can request some by entering: 1. A request in the chat box, , 2. Ask in the our game room lobby, or 3. Private Message a host either on our main page or in our lobby game room. The host or a league member will 'gift' you some if they have bux's available. To check your bux's limit you need to be logged into CribAddicts page. Click on the 'My Account Tab' and the balance of your bux's will show next to your league name.
TOURNAMENT FORMATS: There are a variety of formats offered. If unsure of the format you can check the 'rules' which will explain how to play. You will need to open the tournament page and click on the rules tab. There is also a Format Link on the bottom, right side of the main page that also will explain the variations.
NAMES: There is a Names List Link of members located below the chat box. This is periodically updated so if your name is not on the list please let a Tournament Director know.
BIRTHDAY TOURNAMENTS: We love to host birthday tournaments for our league members. If you would like to have a birthday tournament please email your league name, real name, and your date of birth (month/day only) to: loverboy55792@yahoo.com. A host will contact you to confirm a time and format of your choice. To personalize your tourney page please also provide the host the following information: a favorite song or artist, and an interest you have such as air balloons, firemen, etc.
REPORTING MATCH RESULTS: Our Hosts report all tournament wins and losses for you after the game result is posted in the lobby by the gaming safari umpire or by the player if necessary Winner/Non-Winner. The TD will announce if players need to post the outcome of the game in lobby.
TOURNAMENT PAGES: When you register for a tournament it is advisable to open the tournament page. Once the tournament has started, click on refresh and then the STANDINGS tab. This allows you to follow the tournament assignments. The hosts call pairs in the lobby when the tournament is started. The First name called selects the table, and the second name called joins: First Name//Second Name. The left side of the table (red pegs) adjusts the table settings for game formats.
TIMERS: All tournaments have 3 minute timers with a maximum of 3 timers per player/per tournament. The first timer starts automatically after opening pairs are posted by the host. However, subsequent timers are up to players to ask for in the lobby (TIMER PLEASE), should your opponent not set or join your table. It is up to player to call the timer off in lobby AFTER a card has been played.
 TOURNAMENTS: You can register for the next tournament only when you are playing the finals of the prior tournament, but you do risk being 'timed' out of the new tournament.
LADDERING: These are games played between league members. Normal ladder matches are 3 games of 61 Regular. You can only play a league member for ladders once in a 24 hour period. If agreed prior to the ladder start you can play any format such as: 69 Reg, 69 lowball, 121 Reg, 121 lowball, 61 Reg 2/3. This is the only time a player is responsible for reporting a game loss and needs to be reported immediately when the game is completed. The report window is located under the STANDINGS TAB /Sub Tab - Report Loss. All ladder games must be played in our CribAddicts Lobby.
 MONTHLY SPECIALS: These tournaments are held over the entire month. There is a 'time' schedule listed on the tournament for when games need to be completed by per round. . There links are located on the bottom, right hand-side on our main page: King of the Jungle(121 Reg), Queen of the Jungle(121 Reg), Reach for the Stars(121Reg), and How Low Can You Go(121 Low-Play to Lose). These tourneys are open to all league members.
INTERLEAGUE TOURNAMENTS: Each month our league "battles" with other cribbage leagues. We are allowed to have 5 players for Single Play at 4PM, the 3rd Saturday of the month and 3 teams of two for Team Play held at 4PM the 3rd Sunday of the month. If you are interested in representing our league please contact val5669 (Val) with a private message. A notice is posted at the beginning of each month in the chat box on our main page.
GAMING SAFARI SITE: Our Tournament Game room is CribAddicts. Please see below for the procedure: There is a small download and registration for this site: https://gamingsafari.com/. Once you complete Gaming Safari registration and download you can find our lobby: CribAddicts.
TOP TIGER Tournaments: Admins offer a Top Tiger Tournament at various times with a maximum of four a day. These tourneys are open to all league member players. The winner of Top Tiger Tourneys are advanced to Rank #1 on our ladder. There are a variety of formats which is selected by the host.
FOUR LEAF CLOVER Tournament: This tournament is held the first day of every month and is open to all league member players. The format for this tourney is 121 Reg S/E. All players that participate in the tournament games are moved in rank. This tournament does require you physically play in the tournament.
DUPLICATE ACCOUNTS.: It is against My League rules to have multiple accounts. Your account will be removed if one of the accounts is not removed. You will be advised prior to the removal of the accounts.
GENERAL BEHAVIOUR: We are all here for fun so please respect the hosts who volunteer their time and fellow league members. Any attack of a host or league member is subject to potential removal from the league.
We hope you find this information helpful.
See you at the tables and have Fun!
CribAddicts Staff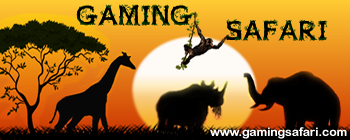 Please follow and read each prompting closely as you start the process!

Copy and paste the following link in your search field: https://gamingsafari.com/

Register an Account
All players at Gaming Safari are required to register an account. To do this look up in the top menu and click register.

When you complete Create An Account,  you will receive an activation link in your email(check your junk folder as most are going there).

If you had a previous account on Gaming Safari  from 2014, you will not need to Create a new Account. You will only need to re-download the software and Log in with the email address and password you registered with then (reset your password if forgotten) .

Download the Client Software
To login to our games you need the special software. On the top menu is the Software link, click it and download the client application. Once downloaded INSTALL the downloaded file. After that, all game files are automatically downloaded when you enter a lobby.

In the Card Games Section select cribbage and find our lobby CribAddicts.